In recent days, the internet has been buzzing about the Koo app. Despite being launched in March 2020, this Indian alternative seems to have gone viral in the past few days.
Basically, Koo App is an Indian app that works like Twitter, whose layout, design, the interface is designed keeping the Indian audience in mind. The Atmanirbhar campaign in our country contributed to this hype. The app has already surpassed the 1 million download mark and 1 million active users.
Related Post – How to Start Blogging on Instagram in 5 Simple Steps in 2021
The Koo app is used by government officials, politicians, officers, celebrities, public figures, and business leaders. To sum up, Zee News, Ministry of Education, Business Standard, Forbes India, Saina Nehwal, etc. also created their official pages on Koo.
You can keep up with the latest news and government updates, as well as follow your interests. Therefore, you cannot distinguish between a real account and a fake account. You may not be bothered by this if you are a regular user. But, give a thought; fake accounts can be created by anyone under the names of well-known people.
So, users following these accounts won't know if they're authentic. You can fix this by verifying your Koo account. Before you can apply for this feature, you must also be well-known. With that said, let's begin.
Related Post – 5 Reasons Why Instagram Marketing Should Be Your Top Priority
How to get a verified account on Koo – Follow Easy Step to getting Yellow Tick on Koo
Several steps are involved in verifying a Koo account. Koo must first be opened on your smartphone. It can be either Android or iOS device. Additionally, this process does not work on Windows, Mac, or any other operating system. Go to your profile picture and click on the top left corner. It will open the account page.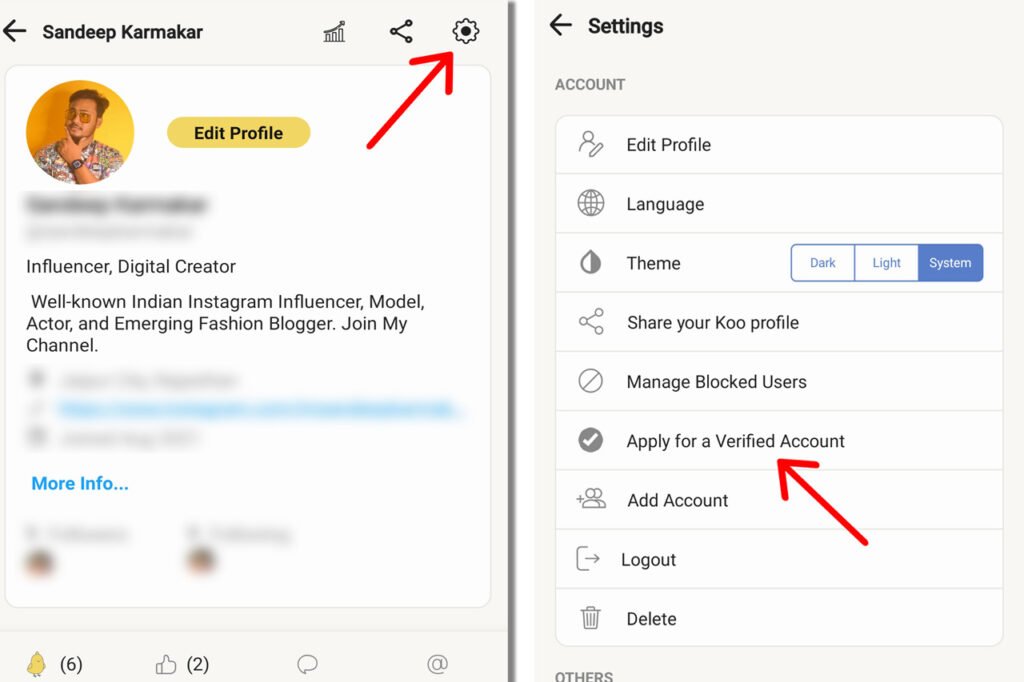 After that, tap on the Settings icon in the upper right corner and click on Apply for a Verified Account. An opening of the Google Form will be displayed on your browser. This form must be filled out with the necessary information.
Three steps are needed to complete the form, start with entering your basic information. These include email address, full name, profession, Koo account handle, and mobile number used on Koo. Next, your account will be verified on other social media platforms. Social media sites such as Facebook, Instagram, and YouTube fall under this category. Select Yes or No accordingly. Click on the submit button once you have entered the URL of your verified account.
---
Conclusion: You can apply for a verified account in Koo by following these steps. After submitting the verification details, if you receive any kind of mail from the Koo team for Government IDs within 2-5 days, then send the details. I believe this process of allocating verified accounts is partially correct. In addition, the process may take up to 45 days. Whatever the case, the future holds better prospects. Apart from this, you can contact the team of Koo directly by email (eminence.verification@kooapp.com) and can see the verification guidelines of the Koo app here.