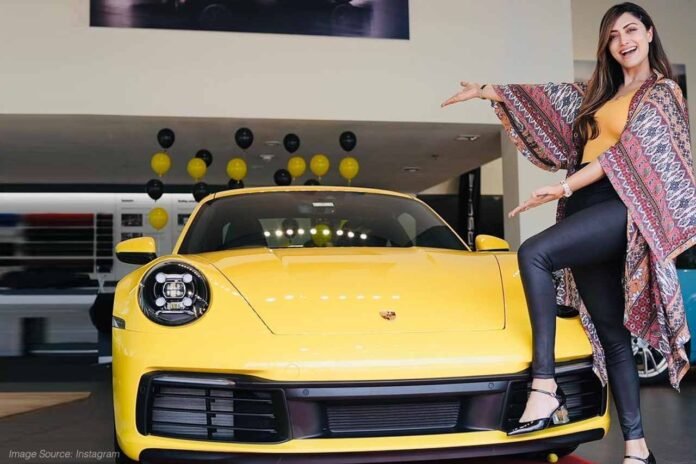 People generally associate Porsche with sports cars and luxury. Videos and pictures of Bollywood stars have been posted online featuring this brand. Mamta Mohandas, a popular actress in the Malayalam film industry, now has a Porsche 911 Carrera S sports car in her garage.
Related Post – Influencer Vivek Choudhary narrates the journey from Struggle to Success
Mamta Mohandas has appeared in many Malayalam films. As well as being an actor, she's a singer and a producer. She has already posted pictures of herself receiving her new car.
Sharing the pictures on her Instagram handle, Mamta said, " A Dream turns into Reality today. I have waited for over a decade for you my sunshine☀️ Proud to present to you the newest baby in my family.. Porsche 911 Carrera S in Racing Yellow." She has purchased the Porsche 911 Carrera S in the Racing Yellow color. This color looks very sporty and excellent on the car.
She buys a brand new Porsche 911 Carrera S, which was introduced to the Indian market several years ago, and belongs to Mamta Mohandas.
Related Post – How the Founder of Limeroad, Suchi Mukherjee Became a Successful Entrepreneur
In just 3.5 seconds, the Porsche 911 Carrera S sprints from 0 to 100 kmph. A Porsche design is unmistakable in the Carrera. LED projector lights are mounted in their large oval headlamps. There are many features included in this vehicle, such as an infotainment touchscreen, analog tachometer, electric door handles, and more.
Having finally owned her dream car was a huge thrill for Mamta, an avid car enthusiast. In addition to being expensive, Porsche 911 Carrera also has a large price tag. Approximately Rs 1.84 crore is the price tag of the Porsche 911 Carrera S, ex-showroom.
Related Post – Bhutanese Influencer Khushi Kunwar enthralls everyone with charming videos
Mamta Mohandas is not the only Malayalam actor with a Porsche 911 GT3 sports car to his name. Dulquer Salmaan also owns the sports car. Miami Blue 911 GT3 has been spotted several times on the road by him. His other interests include classical and new luxury cars, as well as sport cars.