Since the new variant of Covid, Omicron, emerged, governments across the globe have been on alert. There are more Corona cases in Maharashtra than anywhere else in the country. Corona has already affected a number of Bollywood celebrities. John Abraham and his wife's name is the latest. The Coronavirus has infected John Abraham and his wife Priya Runchal, who has posted it on social media.
Related Post – How to change the default search engine on Safari for iOS
John Abraham wrote on Instagram, 'Three days ago, I was in contact with a man who told me he was Covid positive. Priya and I are also in quarantine at home because we have both contracted Corona. At the moment, we don't contact anyone. We have both been vaccinated and our symptoms are very mild. Be sure to keep yourself safe and healthy. Make sure you wear the mask.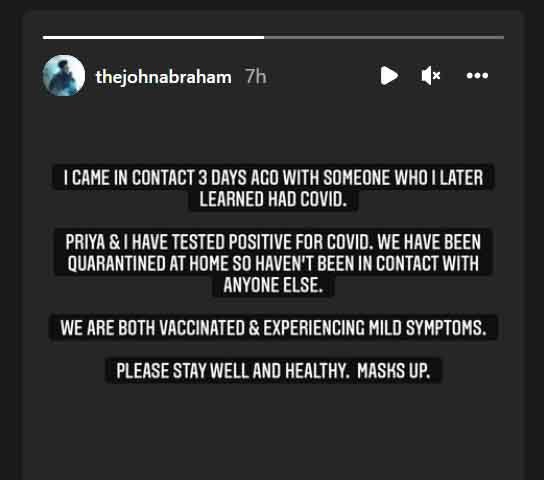 There has been an outbreak of Corona in Bollywood lately, affecting Seema Khan, Kareena Kapoor Khan, Arjun Kapoor, Rhea Kapoor, Nora Fatehi, and Mrunal Thakur. Also found to have been Corona positive was Rahul Rawail, who directed such films as "Betaab" and "Arjun". Afterward, he was quarantined.
Nora Fatehi announced to her fans on December 30 that her Corona report was positive and she is being treated by doctors. She said she has been severely affected by the virus. Mrinal Thakur also announced the news of the corona positive arrival on Saturday by sharing a post to the Instagram story.
Corona's havoc just won't stop
Maharashtra has also registered 11,877 new Corona cases, of which 8036 are from Mumbai alone. In India's capital Delhi, the positivity rate grew to 4.59% on Sunday. According to Omicron, the number of its patients is constantly increasing. There have been more than 1703 cases of Omicron reported so far.
Related Post – Best Site To Buy Instagram Followers From These 5 Trusted Websites