Elon Musk, the CEO of Tesla, has a history of making decisions that have taken everyone by surprise. Musk claimed that Twitter users will now need to pay for "blue tick" subscription after removing all "directors" from the company's board. Elon Musk has fixed the monthly cost of "Blue Tick" on Twitter at eight dollars (about Rs 660). It was officially announced by Elon Musk.
Related Post – Top 10 Fashion Bloggers in Kerala who rocked the Fashion World with their Trend
Musk said in a tweet that among the benefits of Twitter's subscription service is the priority answer, mention, and search feature, for which the monthly fee is $8.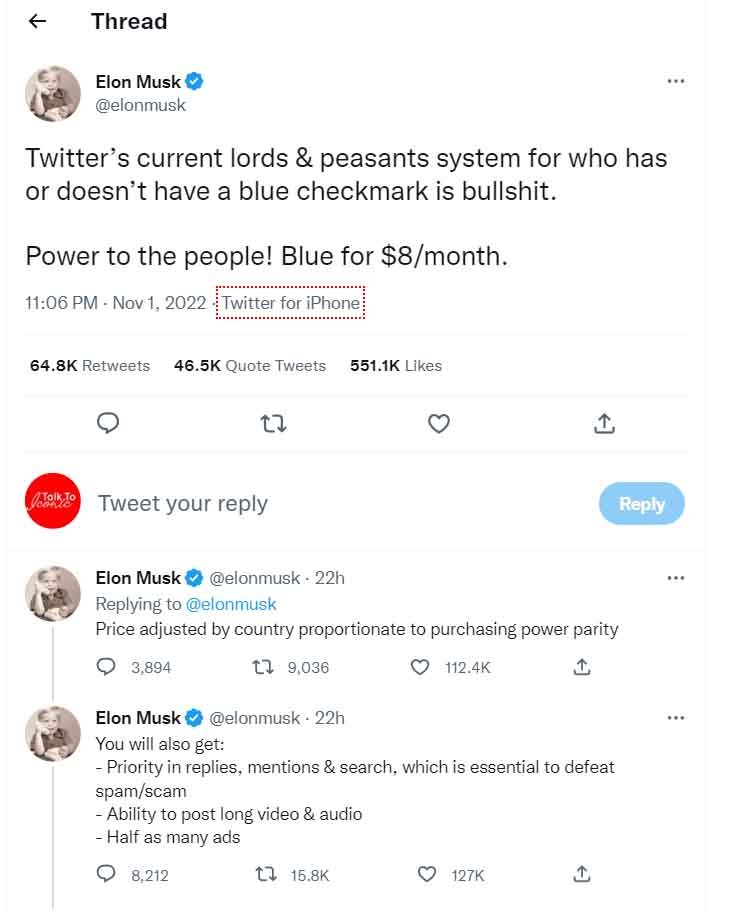 When you subscribe to Twitter Blue, what do you get?
The report indicates that users receive a number of special privileges, including tweet editing, after subscribing to Twitter Blue. The blue tick will be deleted from the profile of people whose accounts have already been verified if they don't subscribe to Twitter Blue within 90 days.
Blue tick started in 2021
In 2021, Twitter Blue was introduced. It includes features such as editing and undoing tweets. A Twitter Blue Tick subscription is required in order to verify accounts, according to the article. In contrast, current Twitter Blue users will have 90 days to sign up. The blue tick will then be taken away from them.