Alexa is a website ranking service that was launched in 1996 by Amazon, an e-commerce company in the United States. SEO analytics and insights are included in a subscription service. Alexa.com, which was operated by the company for 25 years, will be discontinued.
Related Post – Best Site To Buy Instagram Followers From These 5 Trusted Websites
In May 2022, this paid service that provides SEO research and analytics tools will cease to provide website statistics and rankings. In December 2022, after Alexa Internet has been shut down, Amazon may also shut off the API for this service. Nevertheless, Amazon will allow its customers to save their Alexa internet records before the service shuts down.
The Web ranking service will be shut down by May 2022, according to a support page for Amazon. The company mentioned on its support page, "Twenty-five years ago we founded Alexa Internet. After more than two decades of helping you find, reach, and convert your digital audience, we will be retiring Alexa.com on May 1, 2022. Thank you for making us your go-to resource for content research, competitive analysis, keyword research, and so much more".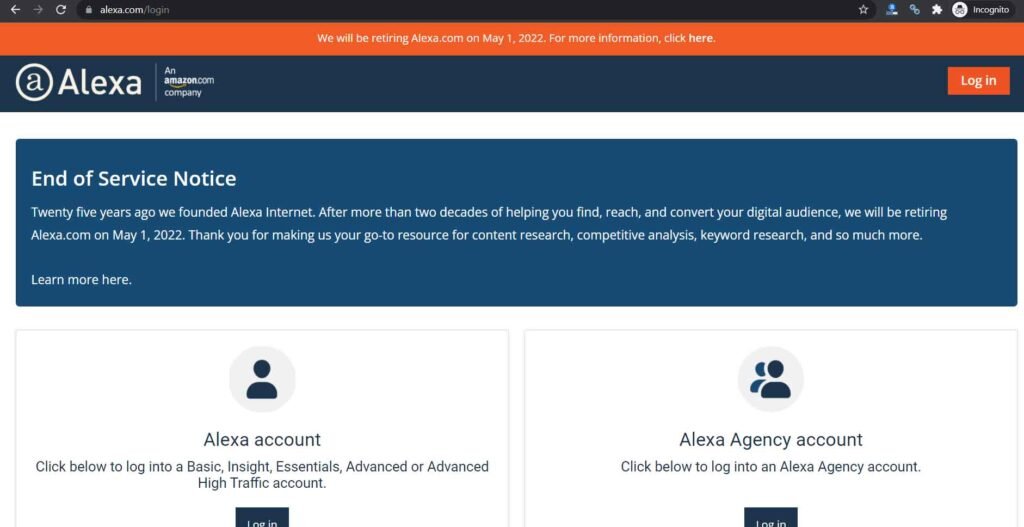 The Alexa Internet subscription service has stopped accepting new subscribers since December 8, but existing customers can still access data until the service temporarily shuts down.
In April 1996, Amazon introduced the Alexa Internet, which became its most popular metric by the time of its launch in October 1996. Users can use this to get an estimate of a website's popularity. Alexa.com will allow users to back up their data before it shuts down and ask them to delete their accounts after the data has been backed up. This report also states that APIs will be closed in December 2022.
Alexa Internet service has been shut down by Amazon without an official reason. According to the report, data from traffic and marketing analytics firm Semrush reveals that traffic to the site has progressively declined over the years. There has been no announcement of the shutdown on Alexa Internet's Twitter or Facebook accounts yet.
Related Post – Dandruff problem increases in winter, try these Ayurvedic remedies to grow hair volume