If you use WhatsApp, you must take extra precautions. Several days ago, 500 million WhatsApp user phone numbers were stolen and sold on a well-known hacking forum. The file, according to CyberNews, apparently contains phone numbers for more than 32 million US, 11 million UK, and 10 million Russian WhatsApp users as well as user data from 84 different countries.
Related Post – Egg Skincare Benefits: Egg can also be used in skin care, get spotless skin by applying egg correctly
The hackers stated to contain a large number of phone numbers, including those of inhabitants of Turkey (20 million), Egypt (45 million), Italy (35 million), Saudi Arabia (29 million), and Egypt (45 million) (20 million). The hacker is reportedly asking $7,000, £2,500, and $2,000 for the US dataset, the UK dataset, and the German dataset.
These users' numbers were stolen
In the shared sample of data, CyberNews researchers found 1,097 UK and 817 US phone numbers, according to the hacker. The researcher looked into them and discovered that they are all active WhatsApp users.
How can you make sure that your info hasn't also been leaked?
The worrying thing is that there is a tool for whether our phone number is present on the dark web or not. Cybernews offers a tool to determine whether or not your data has been compromised.
1) Visit 'cybernews.com' and click 'personal data leak check' page first.
2) In the search field here, type in your phone number or email address.
3) Next, select Check Now.
4) The search result will reveal whether or not your data has been stolen. On this page, you may view your results.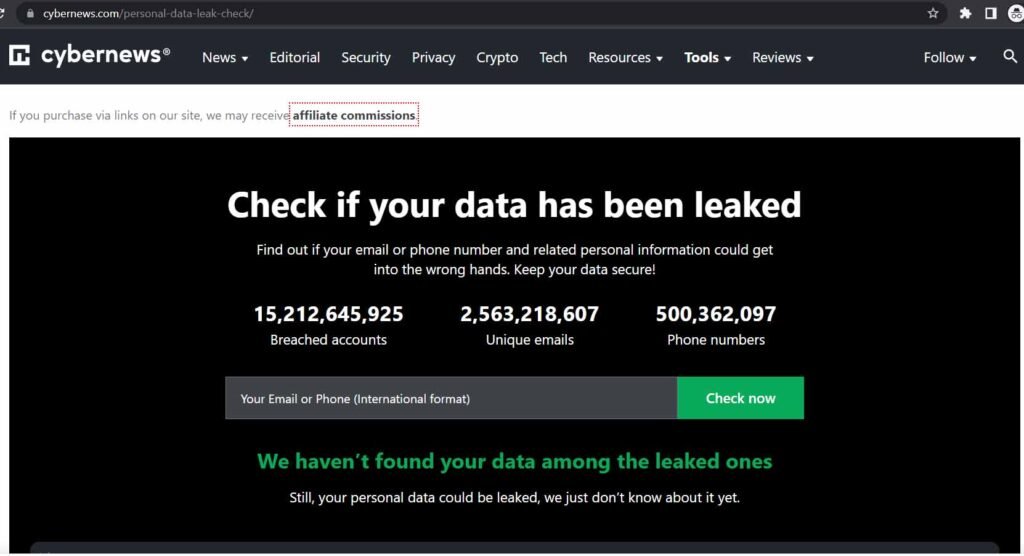 Attack of hackers and phishing
According to the article, the hacker did not indicate how they got the information, but they may have "used their own approach" and all the numbers belonged to WhatsApp users.
Inform them that phishing attempts are how the majority of attackers use this information. Users of WhatsApp have been warned to avoid calls and messages from ominous numbers for this reason.