Rana Daggubati recently announced his Netflix project as he prepares to release two Telugu films. Venkatesh, the legendary actor, and his uncle will also be collaborating on this project, according to the actor. He added that his dream was now coming true.
Related Post – The size of the Influencer Marketing Industry may cross 2200 crore by 2025 in India
A lot of fans were excited when they heard this announcement, and they were eager to watch them share a screen for the first time. A photo featuring Rana Daggubati and Venkatesh from their upcoming Netflix series Rana Naidu was posted on Rana Daggubati's official Instagram & Twitter account recently.
It states that he was delighted to work with the legendary actor and expressed his gratitude for the opportunity, "Always wanted to share the screen with my uncle the VICTORY V @venkateshdaggubati and my dream is finally coming true. As much as I love him off screen, in "Rana Naidu" we are going to be at each other's throats. #RanaNaidu, coming soon on Netflix."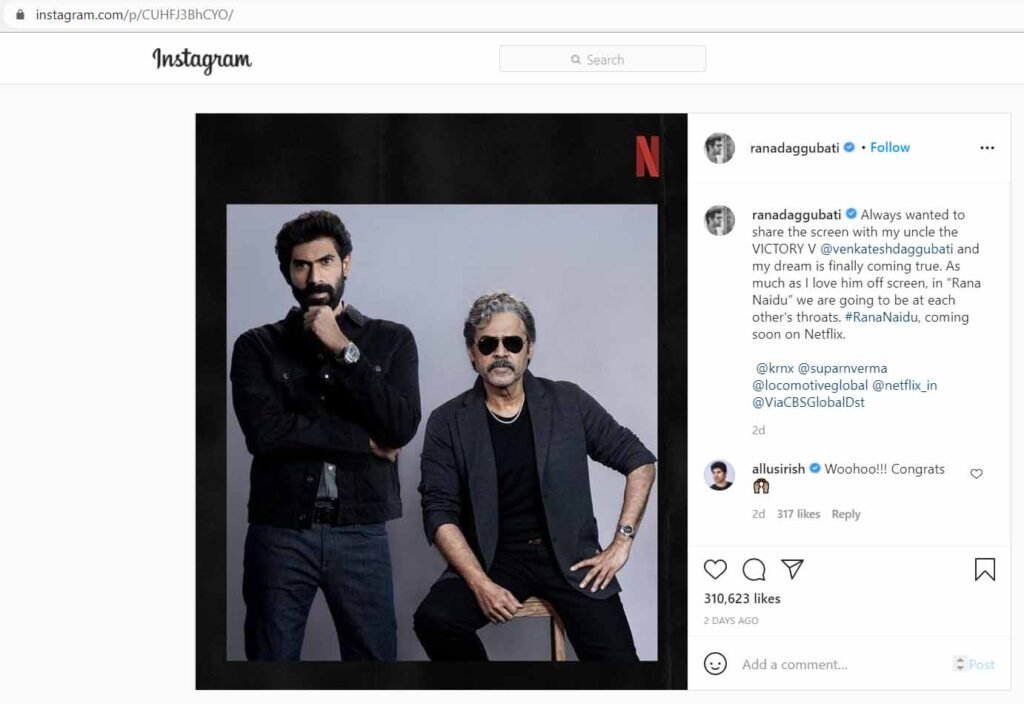 The new project garnered a lot of positive reactions from Rana Daggubati's followers on Instagram. Several fans wished them every success and eagerly awaited seeing them on screen together.
Related Post – How Influencer Esha Jhanji's Beautiful Look Enhanced Her Instagram Presence
The project was even announced by Venkatesh via his Instagram handle, where he praised the actor in a caption. Among his comments was, "I've seen @ranadaggubati grow up right in front of me from a young boy to a fine actor. But in Rana Naidu, he better watch out. #RanaNaidu, coming soon on Netflix."
Ray Donovan, an American crime drama, is the official inspiration for Rana Naidu. It will be directed by Suparn Verma and Karan Anshuman. Locomotive Global Media LLP produced the series, which centers on the life of a Bollywood fixer.
A recent interview with Venkatesh revealed that the series differs greatly from what both of them have done in their previous careers. In addition to this, he said it would be thrilling to work with crews and platforms familiar with the format, saying it would be fun and challenging. The actor went on to reveal that he was looking forward to working with Rana Daggubati.