Several headlines have been made recently due to Kangana Ranaut's unapologetic remarks concerning Aryan Khan. By posting about Jackie Chan's apology following his child's arrest, the actress Kangana Ranaut seemed to be indirectly addressing Shah Rukh Khan.
Related Post – Praful Billore, Popular As MBA Chai Wala, Overcome all hurdles to become an Entrepreneur
A picture was shared by Kangana Ranaut on her Instagram account showing Jackie Chan with his son and the police taking his son from the scene. The post read, "Jackie Chan officially apologized when his son was arrested in a drug case in 2014! He said 'I'm ashamed of son's act, this is my failure and I will not intervene to protect him' and after this his son was jailed for 6 months and also apologized". This actress shared this post with the hashtag "#justsaying"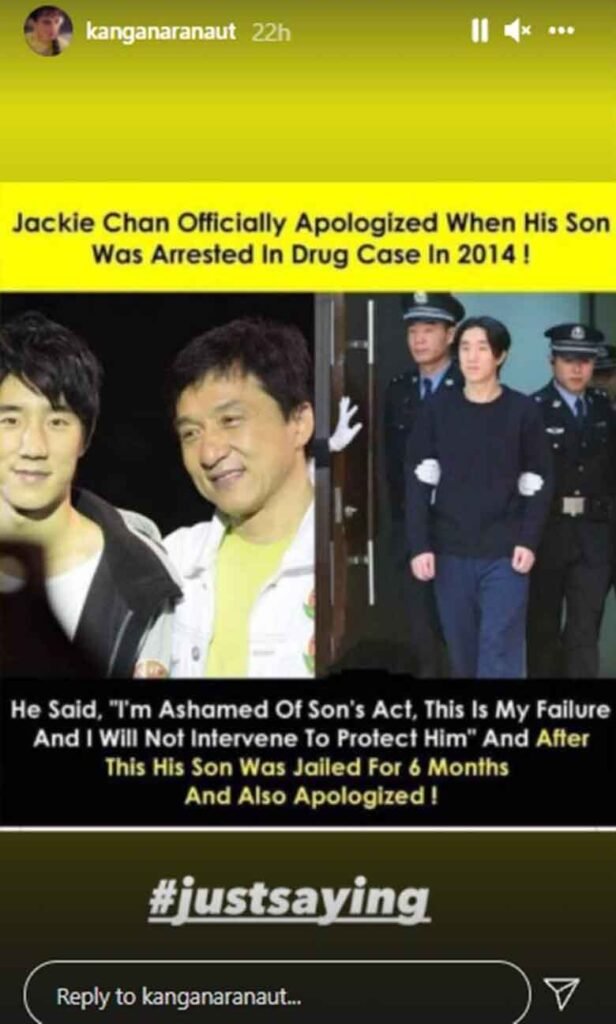 Hrithik Roshan had support to Aryan Khan via his Instagram handle earlier. The actress also penned a lengthy note on the ongoing drug case.
The actress Kangana Ranaut had written, 'Now all Mafia Pappu coming to Aaryan Khan's defence… We make mistakes but we mustn't glorify them… I trust this will give him perspective and also make him realise the consequences of his actions… Hopefully, it can evolve him and make him better and bigger. It's good not to gossip about someone when they are vulnerable but it's criminal to make them feel that they did no wrong."
The authorities have currently been holding Aryan Khan for 14 days. After a cruise drug raid, NCB had earlier taken him into custody.
Related Post – Realme GT Neo 2 is coming to India on October 13, know its price and features